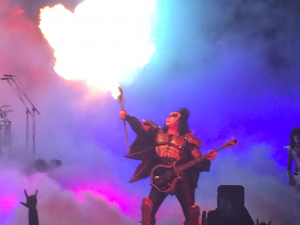 We all know KISS is out on the road these days on their "End of the Road" tour……or should I say, KISS is trying to be out on the road these days!
First, Paul Stanley tested positive for Covid-19, and now Gene Simmons has contracted the virus.
Gene is experiencing mild symptoms and will be in isolation for 10 days.  (As will the rest of the band and crew)
CLICK HERE/LOUDWIRE.COM to read the full story, check out the shows that will be rescheduled, and more.  Get Well Soon Gene!